Blog
Monday, 11 February 2019 00:00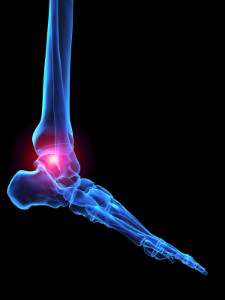 Arthritis is considered to be a degenerative joint disease. The cartilage that protects the ends of numerous bones in the feet may disintegrate, often producing severe pain and discomfort. One type of this condition is referred to as osteoarthritis, and symptoms of this may include swelling in the area near the affected joint. Additionally, it may be difficult to walk, and bony growths may develop throughout the foot. Some of the reason why arthritis may develop may be due to abnormal foot structure, or a painful injury that may have occurred to the ankle. This condition is generally diagnosed by having a physical examination and X-ray or an MRI performed, and then treatment options can be discussed. These may include wearing custom-made insoles which may help to achieve a moderate level of relief, or practicing a regular exercise regimen that may promote stability and possibly improve range of motion. If you feel you may have arthritis in the feet, it is advised to seek the counsel of a podiatrist who can properly diagnose and treat this condition.
Arthritis can be a difficult condition to live with. If you are seeking treatment, contact Dr. Ronald Sheppard from Warren-Watchung Podiatry Center. Our doctor can provide the care you need to keep you pain-free and on your feet.
Arthritic Foot Care
Arthritis is a term that is commonly used to describe joint pain. The condition itself can occur to anyone of any age, race, or gender, and there are over 100 types of it. Nevertheless, arthritis is more commonly found in women compared to men, and it is also more prevalent in those who are overweight. The causes of arthritis vary depending on which type of arthritis you have. Osteoarthritis for example, is often caused by injury, while rheumatoid arthritis is caused by a misdirected immune system.
Symptoms
Swelling
Pain
Stiffness
Decreased Range of Motion
Arthritic symptoms range in severity, and they may come and go. Some symptoms stay the same for several years, but could potentially get worse with time. Severe cases of arthritis can prevent its sufferers from performing daily activities, and make walking difficult.
Risk Factors
Occupation – Occupations requiring repetitive knee movements have been linked to osteoarthritis
Obesity – Excess weight can contribute to osteoarthritis development
Infection – Microbial agents can infect the joints and trigger arhritis
Joint Injuries – Damage to joints may lead to osteoarthritis
Age – Risk increases with age
Gender –Most types are more common in women
Genetics – Arthritis can be hereditary
If you suspect your arthritis is affecting your feet, it is crucial that you see a podiatrist immediately. Your doctor will be able to address your specific case and help you decide which treatment method is best for you.
If you have any questions, please feel free to contact our offices located in Marlboro and Watchung, NJ. We offer the newest diagnostic and treatment technologies for all your foot care needs.
Read more about How to Care for Your Arthritic Foot
Monday, 04 February 2019 00:00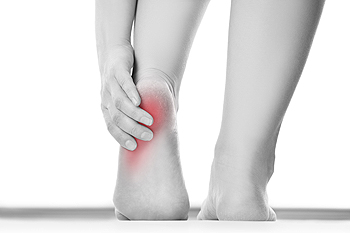 If you are suffering from a sharp pain stemming from your heel, then you may have a heel spur. A heel spur is a calcium deposit that causes a hard protrusion underneath your heel bone. Oftentimes, they are linked to plantar fasciitis, which causes inflammation along the connective tissue between the heel bone and the ball of the foot. In an attempt to protect the heel's surrounding tissues, cells migrate to the area and start depositing calcium. This build-up of calcium usually takes many months to fully form and is only visible by an X-ray. The heel spur only becomes painful, when it spreads into the surrounding tissues. For the most part, heel spurs do not exhibit any symptoms and do not cause any pain. This is due to the fact that the deposits of calcium are put there by the body's bone-forming mechanisms, so they are smooth and flat. If you think you may have a heel spur or would like any additional information about them, then it is suggested that you speak with a podiatrist.
Heel spurs can be incredibly painful and sometimes may make you unable to participate in physical activities. To get medical care for your heel spurs, contact Dr. Ronald Sheppard from Warren-Watchung Podiatry Center. Our doctor will do everything possible to treat your condition.
Heels Spurs
Heel spurs are formed by calcium deposits on the back of the foot where the heel is. This can also be caused by small fragments of bone breaking off one section of the foot, attaching onto the back of the foot. Heel spurs can also be bone growth on the back of the foot and may grow in the direction of the arch of the foot.
Older individuals usually suffer from heel spurs and pain sometimes intensifies with age. One of the main conditions spurs are related to is plantar fasciitis.
Pain
The pain associated with spurs is often because of weight placed on the feet. When someone is walking, their entire weight is concentrated on the feet. Bone spurs then have the tendency to affect other bones and tissues around the foot. As the pain continues, the feet will become tender and sensitive over time.
Treatments
There are many ways to treat heel spurs. If one is suffering from heel spurs in conjunction with pain, there are several methods for healing. Medication, surgery, and herbal care are some options.
If you have any questions feel free to contact our offices located in Marlboro and Watchung, NJ. We offer the latest in diagnostic and treatment technology to meet your needs.
Read more about Heel Spurs