Blog
Monday, 10 December 2018 00:00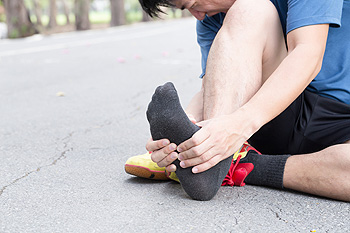 Research has shown there are over 26 bones and several ligaments and tendons that are in each foot. If an injury is experienced in any portion of the foot or if a medical ailment develops, foot pain or difficulty in walking may be indicative of a serious foot condition. A source of uncomfortable foot pain may originate from a condition that is referred to as plantar fasciitis, and this will typically affect the heel of the foot. If you engage in running or jumping activities for extended periods of time, you may develop metatarsalgia. If you have this type of foot pain, you may notice discomfort in the middle of the foot. Additionally, foot pain that comes from tarsal tunnel syndrome will affect the nerves of the foot. If you have any type of foot pain, it is advised to seek the counsel of a podiatrist that can determine the cause of the pain and recommend proper treatment options.
Foot Pain
Foot pain can be extremely painful and debilitating. If you have a foot pain, consult with Dr. Ronald Sheppard from Warren-Watchung Podiatry Center. Our doctor will assess your condition and provide you with quality foot and ankle treatment.
Causes
Foot pain is a very broad condition that could be caused by one or more ailments. The most common include:
Bunions
Hammertoes
Plantar Fasciitis
Bone Spurs
Corns
Tarsal Tunnel Syndrome
Ingrown Toenails
Arthritis (such as Gout, Rheumatoid, and Osteoarthritis)
Flat Feet
Injury (from stress fractures, broken toe, foot, ankle, Achilles tendon ruptures, and sprains)
And more
Diagnosis
To figure out the cause of foot pain, podiatrists utilize several different methods. This can range from simple visual inspections and sensation tests to X-rays and MRI scans. Prior medical history, family medical history, and any recent physical traumatic events will all be taken into consideration for a proper diagnosis.
Treatment
Treatment depends upon the cause of the foot pain. Whether it is resting, staying off the foot, or having surgery; podiatrists have a number of treatment options available for foot pain.
If you have any questions, please feel free to contact our offices located in Marlboro and Watchung, NJ. We offer the newest diagnostic and treatment technologies for all your foot care needs.
Read more about Foot Pain
Monday, 03 December 2018 00:00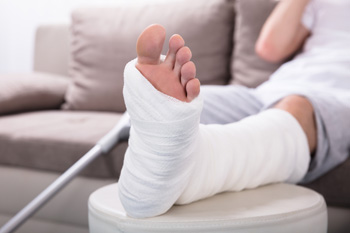 Research has shown that one out of ten broken bones happens in the foot. If tripping, falling, or dropping a heavy object on your foot occurs, you may experience a painful condition known as a broken foot. You will immediately notice symptoms that may include severe pain and swelling, possibly hindering the ability to walk, and bruising or tenderness. Additionally, the toes may be deformed if the bones appear to be dislocated. If you have fallen and you think your foot may be fractured, a proper diagnosis must be performed that will confirm the broken foot. This is typically accomplished by having an X-ray taken, followed by a discussion of proper treatment methods. These may include keeping the foot stable by wearing a supportive boot. Other options may include the use of a splint or cast, and crutches would generally accompany this. If you feel you have broken your foot, it is strongly advised to speak to a podiatrist, so the correct treatment can be chosen.
A broken foot requires immediate medical attention and treatment. If you need your feet checked, contact Dr. Ronald Sheppard from Warren-Watchung Podiatry Center. Our doctor can provide the care you need to keep you pain-free and on your feet.
Broken Foot Causes, Symptoms, and Treatment
A broken foot is caused by one of the bones in the foot typically breaking when bended, crushed, or stretched beyond its natural capabilities. Usually the location of the fracture indicates how the break occurred, whether it was through an object, fall, or any other type of injury.
Common Symptoms of Broken Feet:
Bruising
Pain
Redness
Swelling
Blue in color
Numbness
Cold
Misshapen
Cuts
Deformities
Those that suspect they have a broken foot shoot seek urgent medical attention where a medical professional could diagnose the severity.
Treatment for broken bones varies depending on the cause, severity and location. Some will require the use of splints, casts or crutches while others could even involve surgery to repair the broken bones. Personal care includes the use of ice and keeping the foot stabilized and elevated.
If you have any questions please feel free to contact our offices located in Marlboro and Watchung, NJ. We offer the newest diagnostic and treatment technologies for all your foot and ankle needs.
Read more about Causes, Symptoms, and Treatment for a Broken Foot